WHAT IS THE PROBLEM?
Brands with a large following on social media or brands investing a lot in their social media advertising regularly become a target for harmful engagement on their social properties. This harmful enagagement may include defamatory comments, spam, pornography or piracy links, links to competitors, hate speech, cyber bullying, and much more. This harmful engagement can lead to bad user experience for your fans and it may harm yout brand image as well as your social media ad performance.
Brands also risk facing legal action for harmful comments on their pages that aren't removed promptly.
Below is a stream of user-generated content being removed by BrandBastion to provide examples of the types of comments that most brands would find harmful.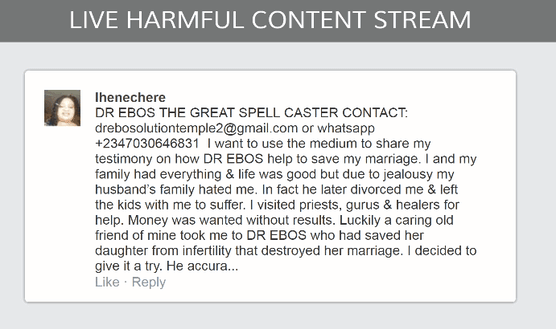 WHAT IS THE MODERATION SOLUTION?
BrandBastion utilizes advanced machine learning technology to provide real-time brand protection on social media, removing harmful content such as spam, scam and defamatory comments within 8 minutes, 24/7. We also escalate comments or issues in need of attention, such as technical issues in ads, a large amount of negative comments about a post or ad, and direct threats against the client.
BrandBastion's moderation solution currently works with Facebook (pages and ads), Instagram, YouTube, forums and website comments.
The moderation solution is highly customizable based on each client's preference and industry regulations and ultimately each client can decide what type of content they want removed from their properties and what type of content they want escalated to them.
HOW IS IT DONE?
BrandBastion's advanced technology identifies content potentially harmful on our clients' social media pages. Through working with many of the world's largest companies during the past years, we have built sophisticated databases of commonly encountered material that includes all types of harmful content, which we utilize to identify possible threats. Trained human analysts verify each flagged threat to ensure that the reported content is accurate before it is eliminated or hidden.
Setup is easy and secure. Here's a step-by-step process for setting up:
Client specifies in assessment call their specific needs for moderation.
BrandBastion drafts moderation guidelines for the client to approve.
The client provides BrandBastion's platform with the appropriate credentials to perform moderation.
BrandBastion begins providing Moderation for the client.
Client receives detailed moderation reports on the conducted moderation.
HOW IS CONTENT FLAGGED FOR MODERATION?
BrandBastion works with the client's team to determine which type of content to remove, escalate or track. This gives each brand we work with a fine control over the moderation guidelines without the risk of over moderation.
You can find our sample moderation guidelines here.
HOW MUCH DOES IT COST?
In order for BrandBastion to provide client's team with monthly reports, including insights on moderated content, pricing depends on the agreed upon volumes of content to be processed per month, the response time and the languages provided. One of our account managers will walk you through the pricing model that best suits your needs in your assessment call. The amount of processed content does not guarantee the amount of content that will be removed, as not all harmful posts that seem suspicious are suspicious, and each content that has been identified to be in the risk zone is analyzed by a human analyst before it is moderated to ensure 100% accuracy.