Dynamic ads arm advertisers with the power to promote large inventories at scale, which in turn, drives higher ROAS.
Ever since Facebook launched dynamic ads, more and more advertisers have started using this powerful feature. Since then, Facebook has rolled out tailored versions of the tool for the travel and auto industries. (Learn more about Dynamic Ads in the Facebook Blueprint course here.)
What are some of the benefits of dynamic ads, and why are advertisers flocking to them?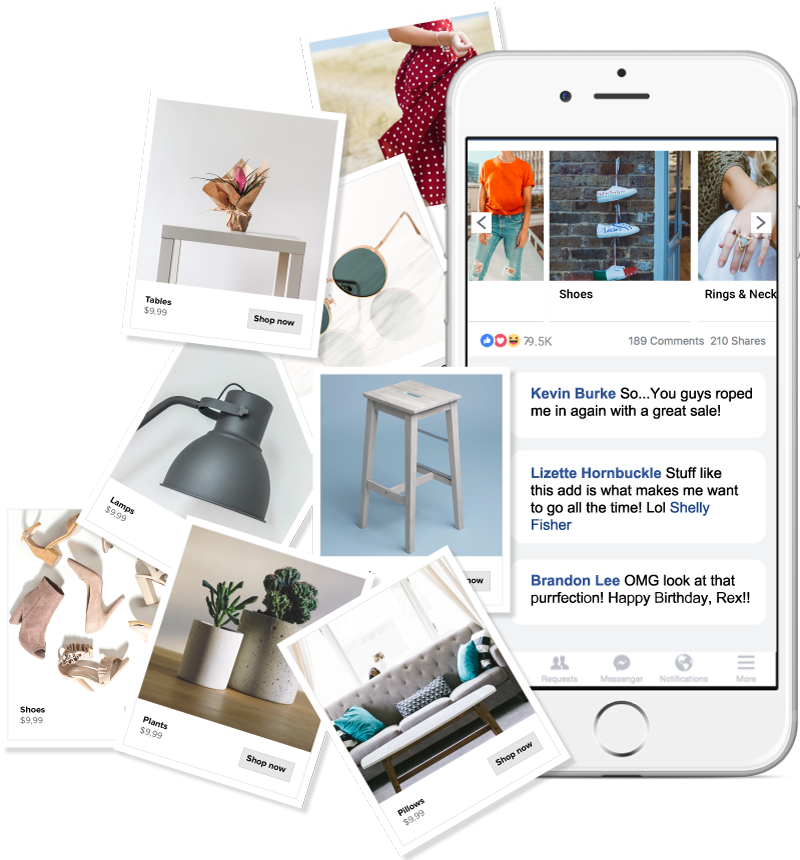 The Benefits
Deliver highly personalized and targeted ads at scale

Attract customers by showing them products that are relevant to them, at the right time

Only show products that are in stock and reflect the current pricing

Reach people across devices, regardless of their original touch point with a brand
The Challenge
With tens of thousands of ad variations, it becomes nearly impossible to see how people react and what they comment on these posts.
While Facebook provides some solutions to manage ad comments manually via Ads Manager and the Facebook Page's Notifications, none of them are practical when running large campaigns.
Dynamic ads enable you to automatically reach a huge audience with personalized recommendations from catalogs with millions of products. Instead of individually creating an ad for every item you promote, you create an ad template that automatically uses the information from your product catalog to render a personalized ad variation for the viewer.
Because of this set up, this format can be challenging when it comes to managing comments across hundreds of ad variations.
Why is monitoring comments on dynamic ads important?
At the core of any dynamic ad is personalization. Personalization is what makes these ads so efficient in driving sales and user acquisition. When users see a highly personalized ad and decide to comment on it, their engagement with the brand should be managed well. The comments on these ads are part of the personalized experience.
Our expertise shows that when you are running large campaigns on social, the chance of people leaving comments that can affect ad performance and brand reputation are high. In most cases, these comments go unnoticed throughout the duration of the campaigns. By not addressing them in a timely manner, their negative effect on the brand and the ad campaigns is amplified. In some cases, this can lead to PR crises and other negative effects.
If brands do not pay attention to these comments in a timely manner, they are at risk of specific threats and may also miss out on important opportunities.
Risks
Spammers and scammers commenting on ads and tapping into the same visibility and reach that your ads have. While you spend valuable money, this harmful content affects brand image, influences performance and leaves room for your customers to become victims of scams.

Leaving complaints unaddressed, which could lead to customer attrition.

Being unaware of brand attacks or criticism. This could deter potential customers from making a purchase after reading negative and false information posted by othe

r users.
Missed Opportunities
The opportunity to learn from customer feedback about the product, the brand, or the creatives used.

The opportunity to drive more conversions by responding to customer queries about where to find products.

The opportunity to improve customer loyalty and positive brand perception by thanking customers who leave glowing reviews on the products or services.
What can brands do to manage comments on dynamic ads and ensure effective ad spend?
1. Have a solution in place to monitor and detect harmful comments, 24/7.
There are social media management solutions available for pulling comments from unlisted or "dark post" ads on Facebook. This is an improvement from Facebook's built-in tools, but many solutions still do not cover dynamic ads or they do not cover them at scale.
Opting to manage this in-house is not viable either. For advertisers running dynamic ads on a massive scale, the cost/efficiency ratio to hire and train such a team in-house would make monitoring and moderation impractical.
Furthermore, many brands adopt dynamic ads to scale marketing by increasing automation. Manually moderating comments without the help of automation would run counter-intuitive to this approach. A brand marketer's time and resources could be spent better elsewhere, such as on optimizing ad strategy based on the feedback received.
A solution like BrandBastion allows brands to automate comment moderation across dynamic ads at scale. This not only saves valuable time, but also has a positive impact on result rates. Cleaning up and removing spammy, hateful, or off-topic comments creates a better and less distracting experience for people viewing the ad, and has been proven to significantly improve brand sentiment and conversion rates.
2. Track and monitor technical issues such as broken links or out-of-stock products.
When you are pushing out so many different variations of an ad, there will be glitches or unforeseen issues that slip through the cracks. It could be audio that isn't working, an important typo in the price, or out-of-stock products continuing to be advertised.
Having a way to track and quickly fix such issues is key to:
Ensure every ad dollar spent is not being wasted.

Avoid having ads with issues reach vast audiences and causing a negative impact.
BrandBastion's moderation solution comes with alerts that will notify you in real-time whenever such issues happen with your ads. You can also be alerted if there is a sudden spike in positive or negative user sentiment in order to respond quickly.
3. Actively respond to customer inquiries or feedback.
All good marketers know that it's easier to get a happy customer to stay and spend more with a brand than it is to persuade a brand new person to become a customer. While brands can reach new audiences and target potential customers on digital, they should not neglect thanking or engaging with existing happy customers.
Being able to identify comments that contain glowing reviews or feedback about your product or brand is also key in driving results from your dynamic ads campaign. When new people are exposed to the ad and they can see from the comments feed that the brand is actively engaging, it contributes to a more positive overall impression of the brand. This is likely to shape their purchasing decisions as well.
BrandBastion's customer response solution automates custom responses to recurring types of inquiries, reducing the daily volumes of comments requiring attention and escalating the most urgent ones for you to handle.
Learn how we helped a leading e-commerce platform manage engagement on dynamic ads
Complete coverage for all your Facebook ads
With new updates made by Facebook to its Marketing API as of June 2018, it is now possible for the first time for brands to have their engagement on Facebook dynamic ads managed programmatically through BrandBastion's solution.
Results achieved with BrandBastion
-88%
Harmful Content Posted
We did a benchmark study and found the alternatives to be several times more expensive while providing only a fraction of the features and quality that BrandBastion does. We've been very satisfied with BrandBastion's moderation services.

- Satu Harkonen
Head of Customer Support, DealDash
Built for scale
BrandBastion provides automated global comment management on social media 24/7. We help our clients manage the engagement they receive across their ads and accounts, removing harmful comments, issuing alerts for comments that require attention and providing actionable insight on what's being said across accounts. The solution runs in 43 languages enabling brands to run ads at scale, whilst improving the conversations they have with their customers.

With main offices in Helsinki, Finland and Los Angeles, United States, BrandBastion works with top brands with global presence such as Netflix, MAC Cosmetics, and DealDash to help them manage engagement on large-scale advertising campaigns effectively.

Some of our competitive advantages include:
Industry-leading moderation speed and accuracy: With industry-leading AI and highly trained human analysts, our solution identifies harmful comments at unbeatable speeds. We manage spam, scams, IP infringement and hate speech according to your guidelines, before they have a chance to damage your brand.
Real-time alerts of changes in sentiment, ad issues, or volume of comments: If any unusual activity takes place across paid or organic social, we alert you immediately so you can take action. The goal is to prevent a threat from becoming a crisis through timely responses.
Topic and sentiment based in-depth insights: One of our key advantages is our ability to track and provide insights on specific topics that are unique to your brand or industry. Our insights don't just showcase quantitative metrics such as Likes and impressions - we are able to classify and analyze specific topics that matter to your brand.
Curious about how we can help your brand manage engagement on dynamic ads? We'd love to share more!